It has recently been brought to my attention that I have some blog posts which -might- be deemed rude, and possibly driving readers away. And that I seem to be irritated by questions. I was a little surprised by the comment, and started going through this past year's worth of posts. Funnily enough, I didn't note any posts that seemed to come across as rude. and if I did seem more irritable than usual, there was always a disclaimer, or a personal note about why I was upset. So I gave it a little more thought, and I think this person must have read some of my older stuff, when I was still learning the basics...and getting immensely frustrated, thus posting the way I did.
It's no big secret that I don't reveal all my techniques, in fact, in my FAQ I state pretty clearly that I would not discuss it. You wanna know why? Cos I don't enjoy breaking down everything anymore, like I did in my early days. Back then, there seemed to be so much to learn, and I was afraid of forgetting, wanted a journal to refer to, and tried my best to be precise. But I started to stagnate! It seemed, all I did was macarons, cakes, cupcakes, donuts. I was getting sick of the repetition, and did not find it challenging. Interest in mini-making started to wane, and commission work meant I had to do more of what I was a little bored of doing.
Then I learnt from a few close artist and miniaturist friends (they know they are!) that it was exactly that, which was my problem. I was too fixated on the technical aspects, and not 'organic' enough. It's not as important -how- I achieve my results, but that I do. In other words, I had to slowly re-work the way I think....which meant leaving behind decades of structured thought, and learning to view mini-making in a different way. I stopped looking for 'how' to do things (i.e. tutorials, miniature blogs etc) and turned towards the real world for inspiration. Meanwhile, there were a few more health and family issues that had to be dealt with, and that's always stressful. Miniature-making has always, ALWAYS been my way of dealing with life's stresses, my therapy, and anti-depressant. The BF constantly reminds me that my hobby is not supposed to stress me out!
Over the past year or so, I had considered whether I should shut down my blog, or perhaps move on to a more 'business-like' approach. But after much consideration and discussion, I decided to keep it, but tone down my personal stuff (which is why I started longer journal entries here) and concentrate on posting photos of my work. I think I've done that pretty well, up till yesterday

But you know what, I am who I am, and I don't really enjoy reading 'business-like' blogs that concentrate on just promoting ones' work. I like reading blogs with 'personality', and that's what I had hoped to do when writing in mine. I also like looking through my old blog posts once or twice a year to see how far I've progressed, and where I should improve. Yanno, like a diary! Should the day come where I decide to do this 'professionally', I will take down everything and revamp snowfern.com. Till then, the blog stays, with all my quirks, tantrums and peeves.
So thank you for reading, and sticking with me. To all the haters, well, this is what I gotta say.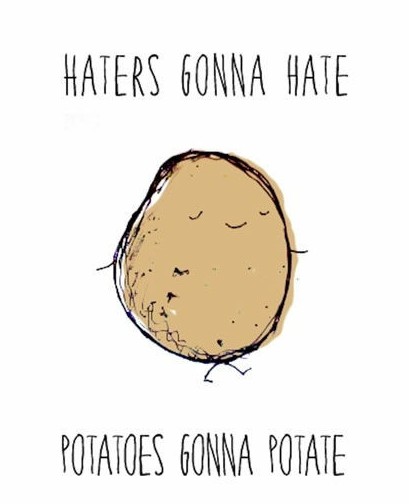 (Btw, does anyone know where this image originated from? I tried looking but all the links via google images seem to go nowhere

)